Welcome to my Delerius Weather Station
The Weather Station in use is my Vantage Pro 2 Plus, and these pages are updated every Minute
The Meteorological day used at this station starts at 00:00 and ends at 23:59.
Current Forecast :
Mostly cloudy and cooler. Precipitation possible within 12 hours, possibly heavy at times. Windy.
Local Time Conditions 13:07 on 21 October 2017
Temperature and Humidity
Feels like Temperature
9.6°C
Temperature
12.9°C
Humidity
81%
Apparent Temperature
9.0°C
Last Hour Variation (3hrs)
+0.1°C
Wet Thermometer
11.1°C
Last Hour Variation (Rising)
-0.7°C
Average Temperature
12.2°C
Dew Point
9.7°C
Windchill
11.1°C
Chill Hours
3.0
Humidex
14.0°C
Heat Index
no
Sunny
No
UV Index
7.1
Current Solar Aax
350 W/m2
Solar Radiation
190 W/m2
Cloud Base
396 m
Is The Sun Up
Yes
Rainfall
Rainfall Rate
0.0 mm/hr
Rainfall Today
0.8 mm
Rainfall Last Hour
0.0 mm
Rainfall This Month
14.2 mm
Rainfall since Midnight
0.8 mm
Rainfall This Year
241.2 mm
Rainfall Last 24h
1.0 mm
Last Rainfall (11 Hour, 44 Min)
2017-10-21 01:23
Wind
Current Wind Speed
14.0 mph
Wind Direction
SE
Wind Speed (gust)
26.0 mph
Wind Bearing
144°
Wind Speed (avg)
12.2 mph
Wind Bearing (avg)
196°
Wind Bearing Range From
130° (130°)
To
270° (264°)
Beaufort Scale
F3
Gentle breeze
-
Pressure (Sea Level)
Barometer
992.89 mb
Altimeter Pressure
992.54 mb
Pressure Trend
-0.33 mb
Falling
Sun and Moon
Sunrise
07:46
Sunset
17:56
Dawn
07:10
Dusk
18:32
Moonrise
09:16
Moonset
19:05
Day Length
10:10
Length of Daylight
11:22
Moon Age
1 Day
My Location
Latitude
N 53° 53' 14"
Longitude
W 01° 47' 53"
Altitude
93 m
Page Updated : 21/10/2017 13:07:01
Powered by Cumulus 1.9.4 (1099)
Local Time
Worsbrough
South Yorkshire, England
Observations
| | |
| --- | --- |
| Temperature : | 12.9°C |
| Humidity : | 81% |
| Wind Speed : | 12.2 mph |
| Wind Direction : | SE |
Saturday, 21 October 2017
Updated at 13:07:01
Current Forecast
12 Hour Forecast

Moon Phase
Phase : Waxing Crescent
Moon Visibility - 3%
Cloud Base Height
Sun Position
Solar X-rays:

Geomagnetic Field: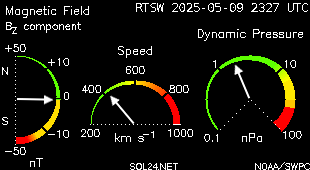 Weather Networks
This Weather Site is also broadcasted on the following International Weather Networks: